Xero Degrees Untold Story and Their Cute Outlet
Karan Makan has been playing a pivotal role in the expansion of Xero Degrees the trademarks are still under his name. With locations across India, Xero Degrees is a new destination for mouth-watering and fantastic dining.
Xero Degrees will make you hungry even more with its Indianized American food. Enjoy expertly crafted hot recipes for spicy fries, cheese pizza slices, sour drinks and more in a warm and inviting atmosphere created by Xero's stunning interiors and décor. Xero Degrees isn't just a restaurant, it's an escape from the hustle and bustle of life to a "world full of happiness".
Everything is served in a jar.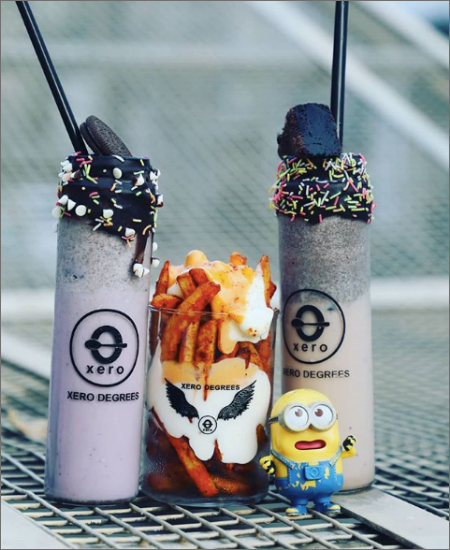 Xero Degrees' approach to meal service is different. Every meal item is displayed in takeout jars. Everything is served in jars, including pizza, cheesy fries, and shakes. The popular American cuisine has been preserved. We've all seen the standard circle pizzas, but Xero Degrees serves them in a heart shape. These types of small details delight the client and surprise them. This is what Karan Makan, the proprietor of Xero Degrees, looks forward to every day. They also provide burgers in three different colours, which is an unusual and original concept. The beverages are modern, in addition to the meal. They take the utmost care in making their coffee. You can locate and adore any type of coffee, including expresso, americano, macchiato, and cappuccino.
According to Karan, the revamped menu will feature a novel idea called "double zero," which will include two drinks in a single container. They will also be expanding their menu to include items like rice bowls and more as the main course. He is eagerly anticipating the day when the foreign foods will be introduced at each outlet, as is the entire crew.
A Happiness Filled Start
The pair claims that they were quite pleased with the food's quality and presentation. Even in Mumbai, they had never seen cuisine that was so exquisitely arranged. Thus, in October 2019, they sealed the transaction. The inside was then created with a nod to subtlety and class. On December 25, 2019, they launched the business after assembling a group of highly skilled and certified employees. Unlike the typical restaurants, Karan sent a group of his experts to Rajender Nagar to teach the personnel. They are free to choose the greatest products for their store because there are no constraints on where to obtain the raw materials, etc.